People have celebrated Valentine's Day with thoughts of love since at least the 1300s. According to an old European legend, 14 February is the day when birds pair off each year to start their new families.




Valentine's Day got its name from the Roman Catholic church, which honours two saints named Valentine on 14 February. Both Saint Valentines were ancient Romans of the ad 200s who died for their Christian faith.


–

Encyclopædia Britannica Junior
Why not lose yourself in a book this Valentine's Day and fall in love with one of these lovely books:
Wedding bells at Butterfly Cove
by Sarah Bennett


When Kiki Jackson's marriage falls to pieces, there's only one place that she knows she can escape to – her sister's little guesthouse in Butterfly Cove. But she's worried that turning up on bride-to-be Mia's doorstep, especially with her two adorable children in tow, will spoil her sister's imminent wedding plans! Luckily, handsome neighbour Aaron Spenser offers to share his new cottage with Kiki until she's back on her feet. And as the wedding draws closer, Kiki realises that Butterfly Cove may be offering her little family more than just a new home. Maybe this is where her new life begins?
Call me by your name
by André Aciman



This is the story of a sudden and powerful romance that blooms between 17-year-old Elio and his father's house guest, Oliver, during a restless summer on the Italian Riviera. What grows from the depths of their souls is a romance of scarcely six weeks' duration, and an experience that marks them for a lifetime.
If we're not married by thirty
by Anna Bell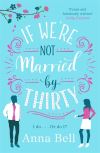 Lydia's not exactly #livingherbestlife. She never imagined she'd be here at thirty – newly single, a job that's going nowhere and her friends all winning at life when she's still barely taking part. So she jumps at the chance of a free holiday and jets off to sunny Spain. Then, out of the blue, she bumps into her childhood friend, the handsome and charming Danny Whittaker. She's always had a crush on him and they soon enter into a passionate holiday romance. But this relationship could be more than just a fling. Years ago they made a pact that if they were still single when they turned thirty they would get married. But no-one really follows through on these pacts – right? Could Lydia's back up man really be her happy ever after?
1022 Evergreen Place
by Debbie Macomber


Mary Jo and her baby daughter, Noelle, have been living next door to Mack since the spring. She's still a little wary about the relationship because she hasn't always made good decisions when it comes to men. Noelle's father, David Rhodes, is testament to that!
Love is like the wind, you can't see it but you can feel it.




–Nicholas Sparks, A Walk to Remember
Absent in the spring
by Carrie Elks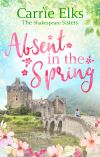 The third book in the 'Shakespeare Sisters' series is all about Lucy, 29 years old and the tallest of the four. Lucy's story takes place in Scotland, between the vibrant streets of Edinburgh and the wild landscape of the Highlands.
After the rain
by Jo Watson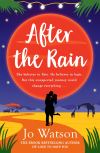 Some opposites attract; some rip each other's clothes off. Stormy-Rain and Marcus are polar opposites: she's a free-spirited, Tarot card reading, rainbow-haired hippie; he wears a suit and tie, and over-shines his already too-shiny shoes. She believes in ancient aliens and auras; he's governed by law and logic and doesn't believe in Fate. But Fate believes in them. So what happens when their worlds collide and disaster strikes? Thrown together under strange circumstances, they are forced to embark on an epic road trip to catch a plane to a wedding on the other side of the world. The clock is ticking – and they're seriously ticking each other off. But they're both about to discover just how thin the line between love and hate really is.
A winter beneath the stars
by Jo Thomas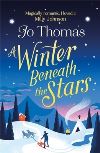 On a courier trip to Tallfors, deep in Swedish Lapland, everything is going to plan. Halley has her bag, with two precious wedding rings inside for delivery – until she doesn't. The only way to save the wedding is to team up with mysterious reindeer herder Bjorn, the one person who can lead her across the snowy tundra to be reunited with her bag. On a journey of a lifetime beneath the stars, with only the reindeer and a bad-tempered stranger for company beside the fire, Halley realises that she will need to confront her past heartaches in order to let the warmth of love in once more.
Alaskan holiday
by Debbie Macomber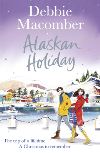 Before beginning her new job as sous chef at one of Seattle's finest restaurants, Josie Stewart takes on a six-month position cooking at a lodge in an Alaskan lake town. It's only temporary – or so she thinks, as she becomes a valued part of the local community, falling in love with the people who call the Klutina Lake home. But one man, in particular, stands out among the rest of Josie's new friends: an intriguing swordsmith whose very existence forces her to question whether her heart wants to return to Washington at all.
You don't love someone because they're perfect, you love them in spite of the fact that they're not.




–Jodi Picoult, My Sister's Keeper
Invisible women
by Sarah Long


Tessa, Sandra, and Harriet have been there for each other, from first crushes through big careers, weddings, babies, the trials of motherhood (and married life) and running their own homes. Now they've hit 50, their children are flying the nest. Their husbands are having rather melodramatic midlife crises. And each finds herself faced with a very big choice. What happens next?
The accidental beauty queen
by Teri Wilson


Charlotte Gorman loves her job as a school librarian, and is content to experience life through the pages of her books. Which couldn't be more opposite from her identical twin sister. Ginny, an Instagram-famous beauty pageant contestant, has been chasing a crown since she was old enough to enunciate the words world peace, and she's not giving up until she gets the title of Miss American Treasure. She drags Charlotte to the pageant as a good luck charm, but the winning plan quickly goes awry when Ginny has a terrible, face-altering allergic reaction the night before the pageant, and Charlotte finds herself in a switcheroo the twins haven't successfully pulled off in decades. Woefully unprepared for this glittery world, Charlotte is mortified at every unstable step in her sky-high stilettos. But soon Charlotte realises she has a whole new motivation for winning.
The great ex-scape
by Jo Watson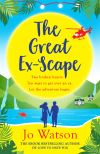 On the scale of one to worst idea ever, agreeing to give the toast at her best friend's engagement party when she's been in love with him for three years was not Val's finest decision. Nor was accidentally confessing her love to him in front of all their guests, including his fiancee. Boarding a plane that will take her literally anywhere to get away from the humiliation, Val is pleasantly surprised to find herself on the dazzlingly beautiful island of Reunion where she hopes she can heal her wounded pride, broken heart and bruised knees. When a painful face mask experiment leads her to a fellow broken-hearted traveller, Alex, they decide to give each other a helping hand and follow a foolproof ten-step plan to get over their respective exes. And so begins their crazy adventure. What could possibly go wrong?
Hide
by Matthew Griffin


Wendell Wilson, a taxidermist, and Frank Clifton, a veteran, meet after the Second World War. But, in this declining textile town in a southern US state, their love holds real danger. Severing nearly all ties with the rest of the world, they carve out a home for themselves on the outskirts of town. For decades, their routine of self-reliant domesticity – Wendell's cooking, Frank's care for a yard no one sees, and the vicarious drama of courtroom TV – seems to protect them. But when Wendell finds Frank lying motionless outside at the age of 83, their carefully crafted life together begins to unravel. As Frank's memory and physical strength deteriorate, Wendell struggles in vain to hold on to the man he once knew.
It doesn't matter who you are or what you look like, so long as somebody loves you.




–Roald Dahl, The Witches
Anna
by Amanda Prowse


Anna Cole may have grown up poor, but her mother's love made her feel rich every day. When she died, Anna's world shattered. Then she met Theo: a shy man with kind eyes, who rebuilt her faith in love. But Theo has a past of his own. Can he really be Anna's knight in shining armour if he has his own battles to fight?
5 centimeters per second
by Makoto Shinkai and Yukkiki Seike


Love can move at the speed of terminal velocity, but as Makoto Shinkai reveals in this manga comic, it can only be shared and embraced by those who refuse to see it stop.
The cake shop in the garden
by Carole Matthews


Fay Merryweather loves her home on Honeysuckle Lane. Running her tea rooms from her house, looking after her mother and trying to be a good girlfriend and sister doesn't leave Fay with much spare time. When she does get a moment, she finds herself at the bottom of her garden, which is full of lovely blossoms and gorgeous blooms, sitting alongside the peaceful canal that runs through her hometown. It is Fay's favourite place. Then Danny Wilde walks into her life. Danny makes Fay feel things she's never felt before and try as she might to resist, Fay is inexplicably drawn to this man. When a sudden tragedy strikes, Fay's entire world is thrown off balance even further and she doesn't know which way to turn.
What we left behind
by Robin Talley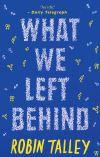 Toni and Gretchen are the couple everyone envied in high school. They've been together forever. They never fight. They're hopelessly in love. When they separate for their first year at college they're sure their relationship will stay rock solid. The reality of being apart, however, is very different.
We accept the love we think we deserve.




–Stephen Chbosky, The Perks of Being a Wallflower