World Book Day is back! Taking place on Thursday 7 March,  providing children and young people with the opportunity to purchase their own book using a £1 World book day token. Here are the 10 books available for children and young people to choose from.
How does World Book Day Work?
Millions of book tokens are sent to children and young people across the UK, where children and young people can take their book token to a local book seller and use it to choose out of the selected books which are new and exclusive!
Or if they would rather children and young people can use their token to get £1 off any book or audio book costing over £2.99 at participating bookshops.
Other ways to celebrate World Book Day
Share the celebration on social media using the hashtag #WorldBookDay. Read with the family, whether its new or old books, recreate stories and go on adventures, dress up or write down ideas for new stories and make sure to visit your local library for more World Book Day celebrations!

These books are perfect to read together, and available from Hampshire Libraries!
Stuck
by Oliver Jeffers


Floyd gets his kite stuck up a tree. He throws up his shoe to shift it, but that gets stuck too. So he throws up his other shoe and that gets stuck, along with a ladder, a pot of paint, the kitchen sink, an orang-utan and a whale, amongst other things! Will Floyd ever get his kite back?
The book with no pictures
by B.J. Novak


You might think a book with no pictures seems boring and serious. Except, here's how books work. Everything written on the page has to be said by the person reading it aloud. Even if the words say 'blork' or 'bluurf'. Even if the words are a preposterous song about eating ants for breakfast, or just a list of astonishingly goofy sounds like 'blaggity blaggity' and 'glibbity globbity'.
We're going on a bear hunt
retold by Michael Rosen



We're going on a bear hunt. We're going to catch a big one. Will you come too? For a quarter of a century, readers have been swishy-swashying and splash-sploshing through this award-winning favourite. Follow and join in the family's excitement as they wade through the grass, splash through the river and squelch through the mud in search of a bear. What a surprise awaits them in the cave on the other side of the dark forest!
Oi Frog!
by Kes Gray



This is a tale about a frog who discovers that all animals have their special places to sit! Cats sit on mats, hares sit on chairs, mules sit on stools and gofers sit on sofas, but Frog does not want to sit on a log! Jam-packed with animals and silliness, this original story will have young children in fits of laughter.
Happy times in Noisy Village
by Astrid Lindgren


In the middle of the countryside, there are three farms, all in a row, where Lisa, her two brothers, and their friends live. There's never a quiet day for the children of Noisy Village!
You're a bad man, Mr Gum!
by Andy Stanton



Mr Gum is a truly nasty old man. He's absolutely grim. But this book's not just about him. There's also a little girl called Polly, an evil butcher, heroes and sweets and stuff, and Jake the dog, who must be saved from terrible, terrible evil.
How to train your dragon
by Cressida Cowell


Hiccup Haddock Horrendous III was a truly extraordinary Viking hero. The warrior chieftain and awesome sword fighter was known as 'the Dragon Whisperer', on account of his power over these terrifying beasts. But it wasn't always like that, and this is the story of his rise to fame, in his own words.
The 13-storey treehouse
by Andy Griffiths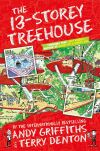 Andy and Terry live in the world's best treehouse! It's got a giant catapult, a secret underground laboratory, a tank of man-eating sharks and a marshmallow machine that follows you around and shoots marshmallows into your mouth whenever you're hungry! Just watch out for the sea monkeys, and the monkeys pretending to be sea monkeys, and the giant mutant mermaid sea monster – oh, and, whatever you do, don't get trapped in a burp-gas-filled bubble!
Harry Potter and the philosopher's stone
by J.K. Rowling



Harry Potter lives in a cupboard under the stairs at his Aunt and Uncle's house. He is bullied by them and his spoilt cousin, and lives a very unremarkable life. But then Harry is transported to a world of magic and excitement.
The crooked sixpence
by Jennifer Bell


When their grandmother Sylvie is rushed to hospital, Ivy Sparrow and her annoying big brother Seb cannot imagine what adventure lies in store. Returning to Sylvie's house, they find it has been ransacked by unknown intruders – before a mysterious feather scratches an ominous message onto the kitchen wall. A very strange policeman turns up on the scene, determined to apprehend them . . . with a toilet brush. Ivy and Seb make their escape – only to find themselves in a completely uncommon world, where ordinary objects have amazing powers. The forces of evil are closing in fast, and Ivy and Seb must get to the bottom of a family secret . . . before it's too late.
The giver
by Lois Lowry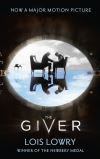 It's a perfect world, where everything looks right. But ugly truths lie beneath. In a future society, life appears civilised and ordered. But when 12-year-old Jonas is given the job of 'Receiver of Memories' he realises the horrible truth that lies behind the perfect façade.
---

What's your favourite book to read together? Tell us in the comments below!