There has already been some great books turned into films and TV series this year, and looking ahead at 2019 there's some exciting ones to look forward to. Maybe you've had your favourite book turned into a film or TV show – or maybe you're sat keeping your fingers crossed that it will never happen. Whatever your feelings are towards books being turned into a film, we're sure it can be agreed that discussing the differences between the book and the film is rather fun!
Let's get started and have a look at both movies and TV-series that have come out in 2019, or will come out later this year. If you spot one you haven't read, click the title and it will take you to our online catalogue, or write down the title and author and bring it in to your local library.
Movies;
---
'Pet sematary' is a chilling, dark story by the master of modern horror; Stephen King. This isn't the first time its been turned into a movie, in 1989 it was directed by Mary Lambert who won the Audience Award in 1990 for said movie.
This time it's directors Kevin Kölsch and Dennis Widmyer who's taken over the reins, this movie was released in cinemas 4 April 2019.
Have you seen both movies? If so, tell us in the comments below which one you prefer! If you would like to read the book, we have plenty of copies available to borrow.
Plot:
The house looks right, feels right to Dr Louis Creed. Rambling, old and comfortable. A place where the family can settle; the children grow and play and explore. The rolling hills and meadows of Maine seem a world away from the fume-choked dangers of the city. It's only those big trucks on the road outside which growl out unnerving threats. Behind the house there's a carefully cleared path up into the woods to a place where generations of local children have walked in procession with the solemn innocence of the young, taking with them their dear departed pets for burial. A sad place maybe, but safe. Surely a safe place. Not a place to seep into your dreams, to wake you, sweating with fear and foreboding.
---
'Where'd You Go, Bernadette' is a compulsively readable, irresistibly written, deeply touching novel about misplaced genius and a mother and daughter's place in the world. Originally meant to hit cinemas in 11 May 2018, it's now, finally, being realised 9 August 2019! Directed by Richard Linklater, this movie includes big star Cate Blanchett in the lead role.
Have you read the book? What do you think of the choice of Cate Blanchett in the lead role? Tell us in the comments below!
If you haven't read this book, why not give it a read?
Plot:
Bernadette Fox is notorious. To Elgie Branch, a Microsoft wunderkind, she's his hilarious, volatile, talented, troubled wife. To fellow mothers at the school gate, she's a menace. To design experts, she's a revolutionary architect. And to 15-year-old Bee, she is a best friend and, quite simply, mum. Then Bernadette disappears. And Bee must take a trip to the end of the earth to find her. Where'd You Go, Bernadette is a compulsively readable, irresistibly written, deeply touching novel about misplaced genius and a mother and daughter's place in the world.
---
'The sun is also a star' is a dazzling story about people, love and life. Directed by Ry Russo-Young this movie will be coming to UK cinemas 9 August 2019 and will include stars such as Yara Shahidi, Charles Melton, Keong Sim and Gbenga Akinnagbe.
If you haven't read this novel, you can borrow both physical and electronic copies of the book and audiobook.
Plot:
Natasha: I'm a girl who believes in science and facts. Not fate. Not destiny. Or dreams that will never come true. I'm definitely not the kind of girl who meets a cute boy on a crowded New York City street and falls in love with him. Not when my family is twelve hours away from being deported to Jamaica. Falling in love with him won't be my story.
Daniel: I've always been the good son, the good student, living up to my parents' high expectations. Never the poet. Or the dreamer. But when I see her, I forget about all that. Something about Natasha makes me think that fate has something much more extraordinary in store—for both of us.The Universe: Every moment in our lives has brought us to this single moment. A million futures lie before us. Which one will come true?
---
'Three Seconds' tells the powerful story of one man's fight against the system he spent his life protecting which now seeks to destroy him.
The movie will be coming to UK cinemas 30 August 2019 under the new title 'The Informer' and is directed Andrea Di Stefano and include such stars as Joel Kinnaman, Ana de Armas and Rosamund Pike!
If you can't wait until August to find out more, then borrow a copy of this book or audiobook and read/listen to the story today.
Plot:
Piet Hoffmann is the best undercover operative in the Swedish police force, but only one other man is even aware of his existence. After a drug deal he is involved in goes badly wrong, he must face the hardest mission of his life – infiltrating Sweden's most infamous maximum-security prison. Detective Inspector Ewert Grens is charged with investigating the drug-related killing. Unaware of Hoffmann's real identity, he believes himself to be on the trail of a dangerous psychopath. But he cannot escape the feeling that vital information pertaining to the case has been withheld or manipulated. Hoffmann has his insurance: wiretap recordings that implicate some of Sweden's most prominent politicians in a corrupt conspiracy. But in Ewert Grens they might just have found the perfect weapon to eliminate him.
---
'The woman in the window' is a real page-turner that will have you hooked from the start.
This thriller is being turned into a movie with big stars such as Amy Adams, Anthony Mackie, Gary Oldman and Wyatt Russell. Directed by Joe Wright, this movie will come to UK cinemas 27 September 2019!
For more information about the movie, check out this website.
Have you read the book? Tell us in the comments below what you thought of it!
Plot:
It's been ten long months since Anna Fox last left her home. Ten months during which she has haunted the rooms of her old New York house like a ghost, lost in her memories, too terrified to step outside.Anna's lifeline to the real world is her window, where she sits day after day, watching her neighbours. When the Russells move in, Anna is instantly drawn to them. A picture-perfect family of three, they are an echo of the life that was once hers.But one evening, a frenzied scream rips across the silence, and Anna witnesses something no one was supposed to see. Now she must do everything she can to uncover the truth about what really happened. But even if she does, will anyone believe her? And can she even trust herself?
---
'The Goldfinch' was first published in 2013, it won the Pulitzer Prize for Fiction and the Andrew Carnegie Medal for Excellence in Fiction in 2014. It's now being turned into a film by director John Crowley and starring Nicole Kidman and Sarah Paulson,
If you haven't read this book, why not give it a go?
Plot:
Aged 13, Theo Decker, son of a devoted mother and a reckless, largely absent father, survives an accident that otherwise tears his life apart. Alone and rudderless in New York, he is taken in by the family of a wealthy friend. He is tormented by an unbearable longing for his mother, and down the years clings to one thing that reminds him of her: a small, strangely captivating painting that ultimately draws him into the criminal underworld. As he grows up, Theo learns to glide between the drawing rooms of the rich and the dusty antiques store where he works. He is alienated and in love and his talisman, the painting, places him at the centre of a narrowing, ever more dangerous circle.
---
'The Good Liar' is another thriller being turned into a movie this year. Directed by Bill Condon and starring Helen Mirren, Ian McKellen and Russell Tovey. The film is due to come to UK cinemas 15 November 2019.
Plot:
This is a life told back to front. This is a man who has lied all his life. Roy is a conman living in a small English town, about to pull off his final con. He is going to meet and woo a beautiful woman. He will swiftly move in with her and together they will live the seemingly calm life of a retired couple – evenings in front of the television, a little holiday in Berlin. Then he will slip away with her life savings. But who is the man behind the con and what has he had to do to survive this life of lies? And why is this beautiful woman so willing to be his next victim?

---
'The rhythm section' is a dark story about loss, revenge and lies. This chilling book will come to life with Jude Law, Sterling K. Brown and Blake Lively as some of the actors. Directed by Reed Morano, the movie will hit UK cinemas 22 November.
Plot:
Four people housed in a single body, four minds crushed into one, Stephanie Patrick is no longer sure who she is. Recruited and trained, she is plunged into a world where her ability to switch persona keeps her alive.

---
First published in 1939, T.S. Eliot's collection of cat poems, written originally to amuse his godchildren and friends, has become one of the all-time favourites of children's literature. This book is now being turned into a film directed by Tom Hooper and starring Judi Dench, Ian McKellen, Taylor Swift, James Corden and Idris Elba.
Plot:
A tribe of cats called the Jellicles must decide yearly which one will ascend to the Heaviside Layer and come back to a new Jellicle life.

---
TV-series;
---
Set a few years after the events of "Pretty Little Liars," three college friends struggle with the stress of being overachievers in the picturesque town of Beacon Heights.
This new series started airing 20 March 2019 and will be showing on the UK network Freefrom.
Plot:
High school senior Nolan Hotchkiss is one of those lucky kids – handsome, rich, living a charmed life – despite the fact that he's a self-centred bully who treats everyone around him like dirt. Still, no one can touch Nolan, no one would try. Until now. There are five girls at school with Nolan who each have a very good reason to end his reign of terror, and now they're going to put words into actions and play this player at his own game. But when you mess with fire you risk getting burnt. For these five fearless girls, revenge comes at a very high price and secrets have a habit of coming out – even when there is nothing to hide.

---
Good Omens by Neil Gaiman and Terry Pratchett

A book written by two of the greatest fantasy authors in modern time, 'Good Omens' has everything you would want; humour, thrills, excitement and good writing. Coming to Amazon Prime Video 31 May 2019, this new TV series stars David Tennant, Benedict Cumberbatch and Adria Arjona.
We have plenty of copies if you would like to read the book before watching the show.
Plot:
According to The Nice and Accurate Prophecies of Agnes Nutter Witch, Judgement Day is almost upon us and the world's going to end in a week . . . Now people have been predicting the end of the world almost from its very beginning, so it's only natural to be sceptical when a new date is set for Judgement Day. But what if, for once, the predictions are right, and the apocalypse really is due to arrive next Saturday, just after tea?

---
Catch-22 by Joseph Heller

This classic novel is set in Italy during the Second World War, it's now been turned into a mini-series starring Hugh Laurie, George Clooney and Kyle Chandler. This six episode series will be coming to Channel 4 this spring!
Why not give the book a read before watching the show.
Plot:
Set in the closing months of World War II, this is the story of a bombardier named Yossarian who is frantic and furious because thousands of people he has never met are trying to kill him. His real problem is not the enemy – it is his own army which keeps increasing the number of missions the men must fly to complete their service. If Yossarian makes any attempts to excuse himself from the perilous missions then he is caught in Catch-22: if he flies he is crazy, and doesn't have to; but if he doesn't want to he must be sane and has to. That's some catch…

---
Watchmen by Alan Moore and Dave Gibbons
 
Having already been turned into a mini-series back in 2008 and a movie in 2009, 'Watchmen' is now being turned into a TV series directed by Damon Lindelof and starring Adelaide Clemens, Yahya Abdul-Mateen II and Frances Fisher.
This graphic novel isn't for the faint hearted, but if you would like to catch up on the graphic novel head over to your local library. Though no exact date is currently set, this series will be coming to UK screens in the autumn of 2019.
Plot:
In an alternate world where the mere presence of American superheroes changed history, the US won the Vietnam War, Nixon is still president, and the Cold War is in full effect. 'Watchmen' begins as a murder-mystery, but soon unfolds into a planet-altering conspiracy. As the resolution comes to a head, the unlikely group of reunited heroes – Rorschach, Nite Owl, Silk Spectre, Dr Manhattan, and Ozymandias – have to test the limits of their convictions and ask themselves where the true line is between good and evil.

---
'His Dark Materials' is actually a trilogy of the books; 'Northern Lights', 'The Subtle Knife' and 'The Amber Spyglass'. These books have been turned into movies in the past, but this is the first time the whole trilogy is turned into one series.
There's currently no date for the premiere of this series, but it's been confirmed it will air on BBC this year and include stars such as Dafne Keen, Lin-Manuel Miranda and James McAvoy.
Plot:
12-year-old Lyra, whose daemon Pantalaimon is part of her very self, is growing up in an ancient, ritual-haunted Oxford. She must rescue her friend Roger from evil kidnappers. In our world, Will has his own dangerous task to fulfil.

---
Coming 2020…
So far 'Artemis Fowl', 'Little Women' and 'Call of the Wild' are all confirmed books that's been turned into movies are will be coming to UK cinemas in 2020!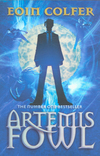 📚Did we miss any? Tell us in the comments below! 🎥