We invite you to seek wellbeing in nature by dipping into our new Naturally Mindful collection of 12 books that explore the benefits of spending time outdoors.
This collection will help you find your way as you start to explore the many, myriad ways of relaxing in nature. Whether you're keen to try Shinrin-yoku, better known as forest bathing, or simply like to slip off your shoes and connect with the ocean, these non-fiction titles have been chosen to help you thrive in the busy world we all live in, a collection of non-fiction books designed to reinvigorate your love of nature whilst improving your mental health and general fitness.
The collection will be touring our libraries, so next time you're visiting your local library; have a look to see if they have arrived. Or, if you just can't wait to read one of the books, you can reserve in a copy for a small charge, by clicking on the book cover below.
The hedgerow apothecary: recipes, remedies and rituals
by Christine Iverson
Learn to forage in the hedgerows like the herbalists of the past. Discover how to make delicious preserves, healing balms, soothing toddies and cures for colds with nature's jewels such as rose hips, elderberries and mugwort. This sustainable and ethical art is also laced with fascinating folklore and steeped in history. With photographs to help you safely identify edible plants, advice on what is available each season and how best to prepare and preserve your finds, this is the essential guide to enjoying the bountiful delights of the hedgerows.
Skimming stones and other ways of being in the wild
by Rob Cowen
This is a book of simple skills that can help us to interact with nature, achieve a deeper connection with it and even step inside another dimension. Rob Cowen and Leo Critchley teach us how to make and fly a kite, make an elder whistle and build a den – and at the same time teach us about life.
Forest therapy: seasonal ways to embrace nature for a happier you
by Sarah Ivens
Who hasn't felt better after a walk in the woods, a picnic alfresco or a swim in the sea? There is something soul-soothingly simple and refreshing about being in nature, about making the most of the great outdoors, being mindful of Mother Nature's gifts and grabbing spring and summer – and those blue sky, brisk days of autumn and winter – with both hands. But sadly it is a skill we are losing. We are becoming creatures wrapped in walls and trapped by to-do lists, hibernating while the world sprouts, grows and changes. From a simple walk in the woods and countryside couples therapy to DIY natural beauty products and how to bring the outdoors to your home, 'Forest Therapy' will provide seasonal tips to help you reconnect with nature.
The Wild Remedy: How Nature Mends Us – A Diary
by Emma Mitchell
Emma Mitchell's richly illustrated and evocative diary records her nature finds over the course of a year and shows how being in the wild benefits our mental and physical wellbeing.
Emma Mitchell doesn't want to beat around the hawthorn bush, she suffers with depression, and has done for twenty-five years. In 2009, the stresses of a city job became too much and she decided to move her family into a cottage in the Cambridgeshire Fens. She swapped days in the office for walks in the wood. There she began to get better. And better. Her encounters with nature proving to be as medicinal as any therapy or drug.

Filled with Emma's beautiful drawings, paintings and photography, this is a book for those who want to bring a little piece of the outdoors with them, whether you struggle with low mood or just love discovering more about the natural world.
A breath of fresh air
by Rebecca Frank
From cloud spotting to meditating in a meadow, running on the beach to dozing in a deckchair, spark joy in your life by being outdoors and living every moment in the here and now. Switch off from social media and tune in to the tranquillity of the natural world with over 50 seasonal activities to explore throughout the year.
Shinrin-yoku: the Japanese way of forest bathing
by Yoshifumi Miyazaki
Shinrin Yoku or 'forest bathing' was developed in Japan in the 1980s and brings together ancient ways and wisdom with cutting edge environmental health science. There are now forest bathing stations and walkways scattered throughout Japan, although the good news is that we can all benefit from this simple practice. Simply put, forest bathing is the practice of walking slowly through the woods, in no hurry, for a morning, an afternoon or a day. It is a practice that involves all the senses and as you gently walk and breathe deeply, the essential oils of the trees are absorbed by your body and have an extraordinary effect on stress levels, positive feelings, energy levels and even promote the activity of NK (anticancer) cells and the balancing of blood sugar levels and blood pressure.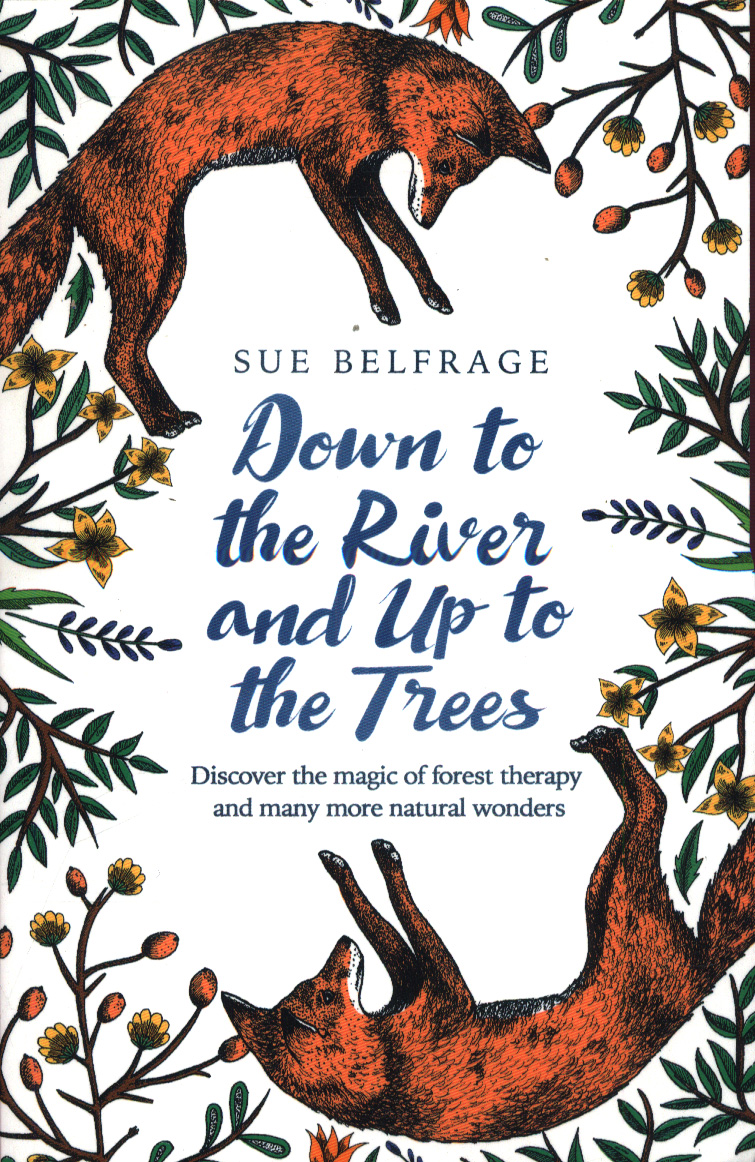 Down to the river and up to the trees: discover the magic of forest therapy and many more natural wonders
by Sue Belfrage
In a stressful, chaotic world, many of us are turning to nature for a sense of serenity and happiness. While the idea of the wild outdoors is enticing, though, our busy lives and our location can cause us to become detached from nature. 'Down to the River and Up to the Trees' will show you how to connect with the natural world around you, whether you live in the city or the countryside. There is space too for you to record your thoughts and findings, whatever shape they take.
Rewild yourself: 23 spellbinding ways to make nature more visible
by Simon Barnes
"We're not just losing the wild world. We're forgetting it. We're no longer noticing it. We've lost the habit of looking and seeing and listening and hearing. We're beginning to think it's not really our business. We're beginning to as if it it's not there any more." Whether you live in city or suburbs or deep countryside, this book will bring you closer to the nature that exists all around you.
Salt on your tongue: women and the sea
by Charlotte Runcie
Charlotte Runcie has always felt pulled to the sea, lured by its soothing, calming qualities but also enlivened and inspired by its salty wildness. When she loses her beloved grandmother, and becomes pregnant with her first child, she feels its pull even more intensely. In 'Salt On Your Tongue' Charlotte explores what the sea means to us, and particularly what it has meant to women through the ages. This book is a walk on the beach with Turner, with Shakespeare, with the Romantic Poets and shanty-singers. It's an ode to our oceans – to the sailors who brave their treacherous waters, to the women who lost their loved ones to the waves, to the creatures that dwell in their depths, to beach trawlers, swimmers, seabirds, and mermaids.
Mountains of the mind: a history of a fascination
by Robert Macfarlane
Since they were once avoided at all costs, how have mountains, in the space of three centuries, come to exert such a strange and sometimes fatal hold on the imagination, moving millions every year to risk their lives? The author of this engaging book seeks to answer these questions.