We're excited to have a guest blogger this month! Julia has read and reviewed all the shortlisted Women's Prize For Fiction titles, and half of the longlisted ones; below, you can find her reviews for each book. If you would like to read any of them, you can follow the links in the title to our online catalogue.
The views and opinions expressed in this blog are those of the author and do not necessarily reflect the official policy or position of Hampshire County Council.
---
Book reviews by Julia (Hythe, Hants)
I love to read, and since I have retired, I have tried to read books from all sorts of genres – this was the main reason I joined two reading groups almost as soon as I finished working. Reading other people's choices was enlightening and, at times, exasperating, too. I was introduced to the Women's Prize for Fiction soon afterwards, in 2013. At the time, my local library held an annual event to discuss the short-list, and vote for "our" winner. From then on, I decided to read all the short-listed books each year, in preparation for this event – and as many of the longlist as I could (just in case the official judges had missed selecting an absolute gem!)
This year, as in others, the judges have chosen books to appeal across the full spectrum of readers. Like most readers, I expect, I loved some and loathed others, but as I have learned in previous years – those I love are probably loathed by others, and vice versa.
I've tried not to put any spoilers into these reviews, nor to be scholarly, but to describe my base feelings on reading them, in order to help other readers to judge how their own reactions might be. If you are looking for a plot summary, try www.goodreads.com
The Women's Prize for Fiction website also has readers' guides for each of the shortlisted books.
---
⭐️Shortlisted books⭐️
---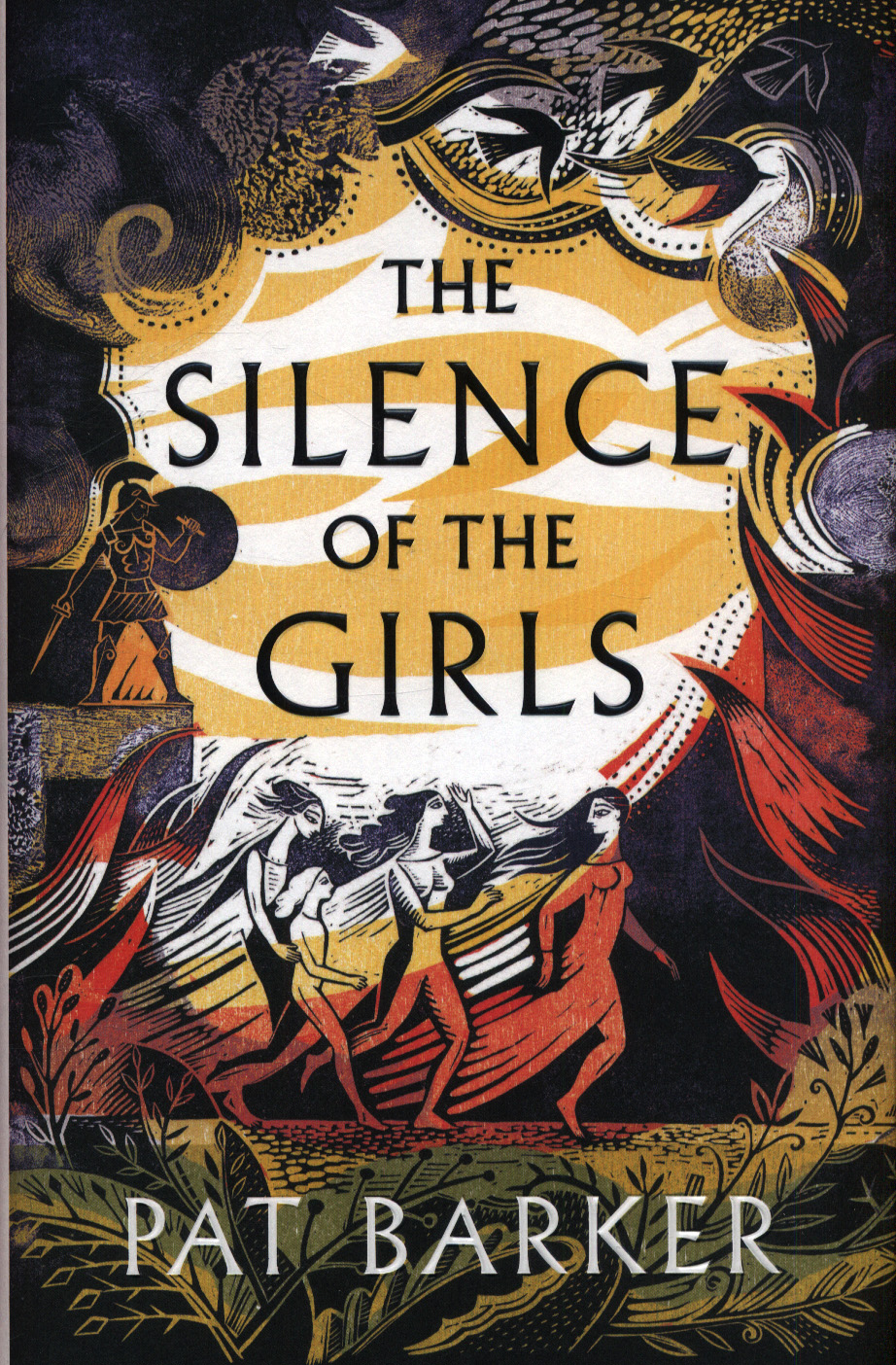 This book got great reviews as giving living voices to the real women of the Trojan War, in its portrayal of Briseis – a princess used by Achilles, then Agamemnon and Achilles again, as a bed slave. It just did not hit the spot for me – maybe this is a problem of using historical figures for a first-person fictional narrative, it seemed devoid of real, passionate emotion. I'm not a "dry-eyed" reader, but even the sacrifice scene described by a reviewer as "tear-jerking" did nothing for me – it was too clinically described.
For a "feminist" book there was very little portrayal of "sisterhood" amongst the female slaves, all of whom were once aristocracy – maybe the storyline would have been better related through the eyes of a common slave, rather than trying not to bring too much imagined narrative into Homer's history.
It was well written, and easy to read – I almost feel guilty about not raving over it – maybe I should not have read Circe first!
Briseis is also a central character in Emily Hauser's For The Most Beautiful (2016) – maybe I should try to read this and the Iliad before making my conclusions on this one.
Star rating out of 5: ⭐️⭐️⭐️ (3/5)
www.goodreads.com/book/show/37969723-the-silence-of-the-girls
www.womensprizeforfiction.co.uk/wp-content/uploads/The-Silence-of-the-Girls-Readers-Guide.pdf
---
I'm a fan of modern writing from Africa, and this debut novel set in Lagos did not let me down. It's sharp and funny, and for someone like me who never quite trusted the beauty of fairy-tale princesses, it really hit the spot.
Braithwaite's prose is as precise and as practical as Korede's clean-up style, which is well suited the first-person narrative, and makes for a quick, easy ready read – not a book to be put down part way through.
This is for all the women who are not the best loved or most beautiful, who don't have men dripping round their ankles waiting for any glimpse from under long eyelashes, but for all the faithful ugly sisters that clear up the mess that the ditsy Cinderellas leave behind!
A difficult decision – but this is my 2019 winner.
Star rating out of 5: ⭐️⭐️⭐️⭐️⭐️ (5/5)
www.goodreads.com/book/show/38819868-my-sister-the-serial-killer
www.womensprizeforfiction.co.uk/wp-content/uploads/My-Sister-Readers-Guide.pdf
---
I read this when it won the Man Booker prize in 2018. I wanted a "challenging" read, and it was. I was disappointed that it did not really hit me in the gut like A Girl is a Half Formed Thing by Eimear McBride, which won the Women's Prize in 2014, but it was worth the effort nonetheless. Like "Girl", it is told in stream-of-consciousness prose, which makes it very personal to the reader.
It is set in an un-named city (Belfast?) during the Troubles, and describes the effect that living with constant suspicion, stress and violence has on the ordinary people. The main character, an 18-year-old girl (un-named, like all the other characters in this book), is considered an oddity (she reads while walking) and comes under the scrutiny of her society, its gossips and rumour-mongers. Individualism is not something that is encouraged here.
This book is set in my time, and not so far from my English home, but I found the browbeaten attitude of most of the people in the book very disturbing. I could not describe it as a good read, but a book worth reading, if you are up to it.
Star rating out of 5: ⭐️⭐️⭐️ (3/5)
www.goodreads.com/book/show/36047860-milkman
/www.womensprizeforfiction.co.uk/wp-content/uploads/Milkman-Readers-Guide.pdf
---
Ordinary people living ordinary lives, and discovering the compromises that are needed to save their ordinary marriages. The storyline of this book is unspectacular, but the book is riveting – all due to the author's quite exquisite style. Her words really bring the characters and their environs vividly to life. A New Yorker review likened Diana Evans to Dickens and Tolstoy, but this is only true in the fact that she is able to take her reader into the soul of the characters – it is neither a difficult nor an over-wordy read, like many of those old classics.
I was, to be honest, surprised how much I loved this book. I'm not of the demographic I suspect it is aimed at, being neither black middle class, nor city based – and a good 20 years older – nor did I know the music that forms a steady backdrop to the book. If I was a reader from that culture, with that music in my history, I can just imagine how I would have found the book even more beautiful.
Star rating out of 5:⭐️⭐️⭐️⭐️⭐️ (5/5)
www.goodreads.com/book/show/35277858-ordinary-people
www.womensprizeforfiction.co.uk/wp-content/uploads/Ordinary-People-Readers-Guide.pdf
---
To me this had two intertwining themes. The initial one is the injustice in the US legal system – where African Americans are incarcerated at more than five times the rate of white Americans, and African Americans convicted of murder or sexual assault are more likely than their white counterparts to be found innocent later – and the second is the role of a woman's independence (in desires and actions) in a modern, African American marriage.
I loved the emotion and the passion in this book – though I did get somewhat frustrated by the husband's desire to "keep" his wife, and his family's opinion that a wife belonged to her husband, but those beliefs formed the backbone of the story. Despite it being a world away from Middle England, the style of writing – brought to life by an easy-to-read Southern lilt which sounded quite filmic in my head – made the reading experience very real.
This will make a great book club read, as there are so many topics in here to discuss.
Recommended by me, and (apparently) Barack Obama. I think that says a lot!
Star rating out of 5: ⭐️⭐️⭐️⭐️ (4/5)
www.goodreads.com/book/show/33590210-an-american-marriage
www.womensprizeforfiction.co.uk/wp-content/uploads/An-American-Marriage-Readers-Guide.pdf
---
Circe
Madeline Miller

There is a reason why old tales survive the millennia, they are wondrous, these stories of gods and mortals. For this is the story of Circe, daughter of Helios the sun god – told from her own perspective – that of a strong, but strangely "human" witch goddess. She is banned from her father's halls – filled with minor gods and nymphs who scorn and mock her – and exiled to a deserted island, fated to pass her immortal days fending off bestial sailors. She hones her potions and spells, and faces the gods, heroes and monsters of Homer's classic tales – Prometheus, Scylla, the Minotaur, Hermes, Athena, Daedalus and his son Icarus, Ariadne and the Minotaur, Jason (of Golden Fleece fame) and, of course, Odysseus – a veritable "who's who" of the ancient Greek world. Through her eyes, we learn that heroes are vengeful destroyers, gods are fickle deceptors, and even goddesses can run out of nappies and struggle with screaming babies!
If descriptions of this novel as "feminist" put you off – don't let them! It is a wonderful book. Although the style feels "classical", it is not a difficult read.
Madeline Miller's debut novel, The Song of Achilles, won the women's prize in 2012, so much as I would like Circe to win this year, I don't think it will, primarily because this author has won previously with a similar style.
Star rating out of 5: ⭐️⭐️⭐️⭐️⭐️(5/5)
www.goodreads.com/book/show/35959740-circe
www.womensprizeforfiction.co.uk/wp-content/uploads/Circe-Readers-Guide.pdf
---
⭐️Longlisted books⭐️
---
Remembered
Yvonne Battle-Felton

Remembered's "current" time is 1910 Philadelphia and its labour strikes, but the main story follows the timeline of slave emancipation over 70 years.
Amongst the many slave characters that come and go in this novel is Mama Skins – who is unlike any character in other novels I have read on this topic. She, and the other slave women, are determined that no more children will have to live a life of bondage, so use contraceptive herbs, suicide and infanticide to maintain the "curse" of sterility on the farm. This aspect of the novel presents a great moral challenge to the reader, and in itself makes for a good book club discussion – are such horrific actions justified to save the unborn human beings from the inhumanity of slavery.
In the novel, the author emphasises the importance of passing on stories of slavery, and my reading confirms the difficulty of understanding them from the distance of white, 21st century England. This is a really good example of the traditional art of storytelling, but I did get lost in the time jumps and name changes of the enslaved then emancipated characters, hence the lower score than I think it probably deserves.
It should have been on the shortlist, though.
Star rating out of 5: ⭐️⭐️⭐️ (3/5)
www.goodreads.com/book/show/42769272-remembered
---
My first note on this book went, simply, "My boyfriend, the merman. Oh dear, more middle aged (40!!), American crass!"
There is always one on the list that I hate, and this was it. A pity, because I did not dislike the premise, but there were scenes in this book I just cannot unsee.
The first step in liking a book is to like at least one character, the second is to like the public persona of the author. There wasn't one human character here I liked, could relate to, or in any way recognised as "real". I felt sorry for the dog. Today, I checked out the author's Twitter and blog (So Sad Today) – if I had done that earlier I would have known not to read the book.
This is just one opinion, but I do not want to go there again.
Aside: I do feel mean for hating it, particularly due to the author's history of depression and anxiety, which seems so acutely reflected in the main character – so please read the Goodreads reviews before making your own decisions on whether to read it.
Star rating out of 5: ⭐️ (1/5)
www.goodreads.com/book/show/32871394-the-pisces
---
Set in Ceaușescu's Romania, the 1970s, I was expecting to love this one. I think it was the Flash Fiction short story style that lost me a bit – I needed it to be longer and more detailed. Similarly, I felt the magical folklore aspect was too "flaky" – I wanted more. Maybe I will just wait for the film to inspire the right atmosphere in my head.
Star rating out of 5: ⭐️⭐️ (2/5)
http://www.goodreads.com/book/show/38720267-bottled-goods
---
With a backdrop of US treatment of unaccompanied child refugees, this could have been a heart wrenching, tear-jerker of a book, but instead I found it more like a political theses. It was full references and quotes from a study books and documents about road trips, Native American history, and immigration. The author worked as an interpreter in New York City's federal immigrant court, helping undocumented refugee children so her scenarios are real enough, but there was not enough "personal" in it. The narrator is full of "fluffy" sensitivity in her thoughts, but lacks empathy in her contact with real people – which makes her come across like a scholar, not an activist.
This would have worked better, I think, if it was a novel centred on the lost children, not a floundering academic. However, I think I would like to read her non-fiction work, "Tell Me How it Ends: An Essay in Forty Questions", to get a better picture of the situation.
Star rating out of 5: ⭐️ (1/5)
http://www.goodreads.com/book/show/44137885-lost-children-archive
---
This was my choice for "Why was it not on the Shortlist?"
The novel addresses "Trokosi" – is a form of slavery practised in some areas of Africa, as part of traditional beliefs. Girls, often as young as 6, are sent into ritual servitude at a shrine and become a Trokosi (Wife of God) as a sacrifice to atone for the sins of family members, and to protect their family from the gods' anger. The girls are kept in the shrine, many are subject to physical and sexual abuse, forced to work, and may never leave. Many will give birth to children fathered by the priest.
Literature is a great path to learning about many practices around the world – often things – like this – that we in the West have never heard of. This book described the loss of childhood in a most traumatic way, and the emptiness it left behind. It was the only book this year that made me cry.
Learn more about Trokosi from a BBC documentary here: youtu.be/8AnwkixlhxM
Star rating out of 5: ⭐️⭐️⭐️⭐️⭐️ (5/5)
www.goodreads.com/book/show/42535541-praise-song-for-the-butterflies
---
The 5 not yet reviewed
---
Ada was born with one foot on the other side. Having prayed her into existence, her parents Saul and Saachi struggle to deal with the volatile and contradictory spirits peopling their troubled girl.When Ada comes of age and heads to college, the entities within her grow in power and agency. An assault leads to a crystallization of her selves: Asghara and Saint Vincent. As Ada fades into the background of her own mind and these selves – now protective, now hedonistic – seize control of Ada, her life spirals in a dark and dangerous direction. Narrated from the perspectives of the various selves within Ada, and based in the author's realities, Freshwater explores the metaphysics of identity and being. Feeling explodes through the language of this scalding novel, heralding the arrival of a fierce new literary voice.
www.goodreads.com/book/show/43268788-freshwater
---
Swan Song
Kelleigh Greenberg-Jephcott

To the outside world, they were the icons of high society – the most glamorous and influential women of their age. To Truman Capote they were his Swans: the ideal heroines, as vulnerable as they were powerful. They trusted him with their most guarded, martini-soaked secrets, each believing she was more special and loved than the next. Until he betrayed them.
www.goodreads.com/book/show/40718346-swan-song
---
The popular Beijing Duck House in Rockville, Maryland has been serving devoted regulars for decades, but behind the staff's professional masks simmer tensions, heartaches and grudges from decades of gruelling service work. When Duck House manager Jimmy Han tries to sell his father's old restaurant to move to a more upscale location, these conflicts are set loose, testing the bonds of this working family.
www.goodreads.com/book/show/35020361-number-one-chinese-restaurant
---
Teenage Silvie is living in a remote Northumberland camp as an exercise in experimental archaeology. Her father is an abusive man, obsessed with recreating the discomfort, brutality and harshness of Iron Age life. Behind and ahead of Silvie's narrative is a story of a bog girl, a sacrifice, a woman killed by those closes to her, and as the hot summer builds to a terrifying climax, Silvie and the Bog girl are in ever more terrifying proximity.
http://www.goodreads.com/book/show/46031418-ghost-wall
---
Connell and Marianne grow up in the same small town in rural Ireland. The similarities end there; they are from very different worlds. When they both earn places at Trinity College in Dublin, a connection that has grown between them lasts long into the following years.This is an exquisite love story about how a person can change another person's life – a simple yet profound realisation that unfolds beautifully over the course of the novel. It tells us how difficult it is to talk about how we feel and it tells us – blazingly – about cycles of domination, legitimacy and privilege.
www.goodreads.com/book/show/41086877-normal-people
---
Having read the six shortlisted books, 'My Sister, the Serial Killer' by Oyinkan Braithwaite is my Shortlisted choice to win.
Praise Song for the Butterflies by Bernice L. McFadden is the one that should have made the Shortlist (and won) but didn't.
SHORTLIST
LONGLIST
If you have an interest in being a guest blogger for our site, please send us a message with your ideas and we'll get back to you.